We are going to discuss the best WordPress theme for your corporate website. We have done some deep research on more than 100 WordPress themes based on the
Design
Speed
Ease on use and customization
Completeness of functionality for Corporate Website
Without a doubt, the best corporate and trending WordPress theme is Jupiter WordPress Theme. We have chosen this theme as best as It scored best on above criteria than other themes. We will discuss Jupiter WordPress Theme in detail below with other 9 themes. We will discuss why we chose these 10 themes scored best in above criteria and also mention what you should consider before investing in other themes also wasting your time and effort.
1. Bazzinga Pro WordPress Theme
Bazzinga Pro is a different theme than listed themes with clean and latest top notch design. While Bazzinga WordPress theme is specifically tailored to meet the demands of corporates, and start-ups, it can also be easily used by independent creators, freelancers, and entrepreneurs. It's also Woo-commerce ready, which means you can easily sell your products and services online. You can feature your portfolio, testimonials, and your projects. It's got a quick and friendly support team that will help you with any queries you have regarding the theme. Developers have put their best efforts in the design, quality of the code and mobile responsiveness of the theme. You've multiple options on how to display your pages – sidebar, full-width.
With the demo-importer, you can seamlessly make your website ready, as in the demo.
Design – 9

Speed – 10

Userfriendly – 10

functionality – 9

Customization – 9

Rating : 9/10
2. Owner Pro WordPress Theme
Owner Pro is a premium multipurpose corporate WordPress theme. It has 8+ custom widgets with multiple layouts. It also provides multiple header layouts and typography options. Owner Pro Provides more than 6 demos including free and pro demos.
It also features such as a user friendly portfolio, blog and shop layouts.
The theme features cool animations on its pages. The astounding aspect of Owner Pro theme is that even with those animations, it has an excellent desktop page speed of 95 and solid mobile responsiveness.
The main reason why we placed Owner Pro on the top of the list is it is super easy to setup. In just a few click you can setup this theme and after changing text and images of your choice your beautiful corporate website is ready to go live.
Design – 9

Speed – 10

Userfriendly – 10

functionality – 9

Customization – 9

Rating : 9/10
3. Infinite WordPress Theme
Infinite is also a multipurpose theme which is useful mainly for online business and ecommerce websites. Infinite WordPress theme provides its own page builder although it is not powerful as divi builder and elementor, it does its job well while making some customization to more than 30 demos provided by the theme. We have found it so easy and simple while building a website with Infinite WordPress Theme. We didn't find any flaws in design, elements provided by the builder and animations in the theme. Beginners will also find it easy and flexible for designing their website. Although it has an eye catchy and mobile friendly design, it only scores average in page speed load.
Design – 10

Speed – 9

Userfriendly – 10

functionality – 9

Customization – 9

Rating : 9/10
4. Monstroid2 WordPress Theme
Monstroid2 is a product of Monster's theme. It has a powerful page builder that allows you to drag and drop elements to create new layouts. It is also lightweight and loads fast. It provides 300+ ready to use demo which you can import in just a one click from Demo Content importer. It is also compatible with elementor pro so you can change any section and add any sections using elementor builder plugin. After installing the theme, you'll be asked to install a recommended plugin in the Plugin Wizard section with which you can install all plugins in a bulk. After doing so you are good to start building your website.
However, we found it a bit distorted when viewing on mobile devices.
Design – 9

Speed – 9

Userfriendly – 10

functionality – 9

Customization – 10

Rating : 9/10
5. Webify WordPress Theme
Webify is an elementor based wordpress theme. Webify has an inbuilt cache system which will load its elements of pages from cache so it loads quickly. It is not as popular when compared to other themes we have listed but the demo design of Webify WordPress theme is flawless. One hiccup of Webify theme is that it lacks customization and user friendly. It has more than 50 ready to use demos. It also comes with pro plugins which makes it a complete theme to build your corporate website.
Design – 10

Speed – 10

Userfriendly – 9

functionality – 9

Customization – 9

Rating : 9/10
6. Bridge WordPress theme
It is a Creative Multipurpose WordPress theme and provides many built features with it. Bridge provides more than 450+ demos. We loved the color combination of the demos provided by this theme. Overall, it is a clean theme to build your corporate website. It also provides lots of one page website demo which should be more than enough for most corporate websites. It also has some nice animation and sliders while the site speed is slightly above average.
Design – 10

Speed – 9

User friendly – 9

functionality – 10

Customization – 9

Rating : 9/10
7. Divi WordPress Theme
When Divi theme released with its own builder along with theme, it was a game changer for WordPress in terms of themes and building website. At that time most of them only provided theme options, customizer and page builders only. Divi provides large numbers of demos. It provides a staggering number of 1200+ demos. With the pre-built layouts, building website with Divi theme is as easy as a hot knife through butter. It provides huge pre built layouts for corporate websites too. Especially we like the layout for real estate and we have built some sites for clients.
Design for desktop and mobile devices from the divi design is a top notch. However, Divi builder is not as flexible as Elementor in terms of.user friendliness and customization.
Design – 10

Speed – 9

User friendly – 9

functionality – 10

Customization – 9

Rating : 9/10
8. Agency WordPress Theme
Agency WordPress Theme is a clean and optimal WordPress theme for building corporate websites. It is not a feature pack theme as it provides relatively less header, footer and page design layouts but there are complete basic elements to build a corporate website. Agency WordPress Theme does not provide any kind of page builder or visual builder but its theme settings are relatively easy to set up. Some may also like the theme settings of this theme more than page builder or visual builder and it is hassle free to drag and drop every element to make a website. Page speed of the website using this theme is fast on both desktop and mobile.
Design – 10

Speed – 10

User friendly – 8

functionality – 8

Customization – 8

Rating : 9/10
9. Avada WordPress theme
Avada is one of the best selling WordPress themes in themeforest. It has more than 500,000 active installations. Most demos of this theme are too simple. But the output of avada is good as it gives you flexibility of custom breakpoints unlike elementor. Which gives you a breakpoint for mobile, ipad and desktop only. Avada uses its own builder which is pretty fast so we can give 10 on 10 in user friendly and customization. It is a multipurpose theme so there won't be a problem extending your corporate website to store websites.
Design – 10

Speed – 8

Userfriendly – 10

functionality – 8

Customization – 9

Rating : 8/10
10. X Theme WordPress theme
X Theme is a multipurpose WordPress theme by THEMECO. It is also developer friendly and also can be said to be the most flexible theme for developers as it implements Element api through which developers can build new elements. It comes with drag and drop page builder which is always a good feature. But as it is just a page builder, not a visual builder, someone with no web development knowledge might initially find it hard to use. Page speed of the website using this theme is pretty fast in both desktop and mobile.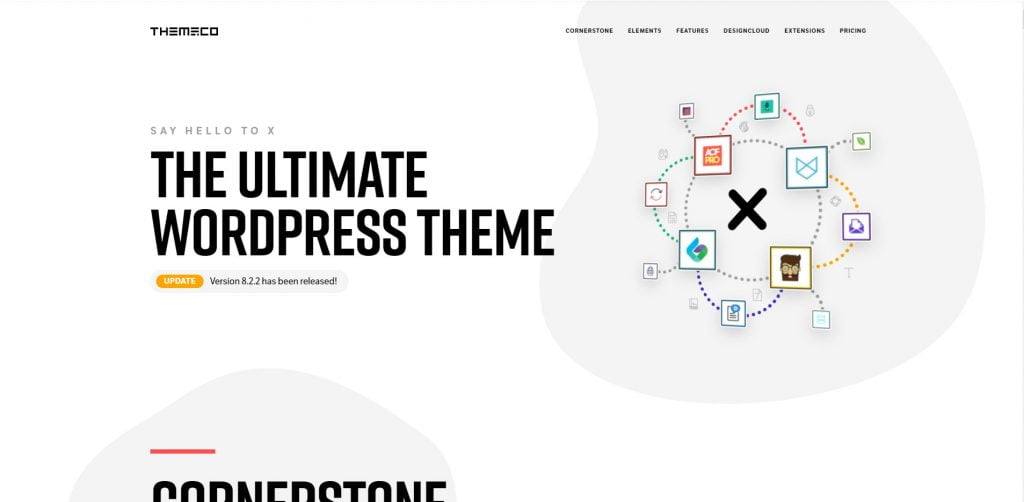 However, this theme is not so user-friendly to people without web development knowledge, and lacks choices in demos.
Design – 10

Speed – 9

Userfriendly – 8

functionality – 9

Customization – 8

Rating : 9/10