Are your looking for easy and simple steps to create your ecommerce website using WordPress? Here are few easy steps that help you to completely setup your ecommerce website. Get your hands on and follow these steps:
Steps to create a complete WordPress eCommerce Website:
Installing WordPress Theme & Plugin

Creating your first product

Creating product categories

Create WooCommerce pages

Setting up your Homepage Layout

Finishing up
Installing WordPress Theme & Plugin
Installing the eCommerce Theme
Activate the theme through Dashboard > Appearance > Themes > Niva Store Pro
Installing the Woocommerce Plugin
View your Dashboard
Go to Plugins > Add New
Search woocommerce keyword in right side search bar
Install WooCommerce Plugin by Automattic

Create Your First Product
After you activate your woocommerce plugin, you can now start to create shop content. Here are few steps to follow:
Go to Products > Add New from your Dashboard
Add Product Title in the top of the product edit page
Add Product Featured Image from Product Image box at the right side
Now, with little scroll you will find Product Data and Product Short Description meta field.
Add your product details here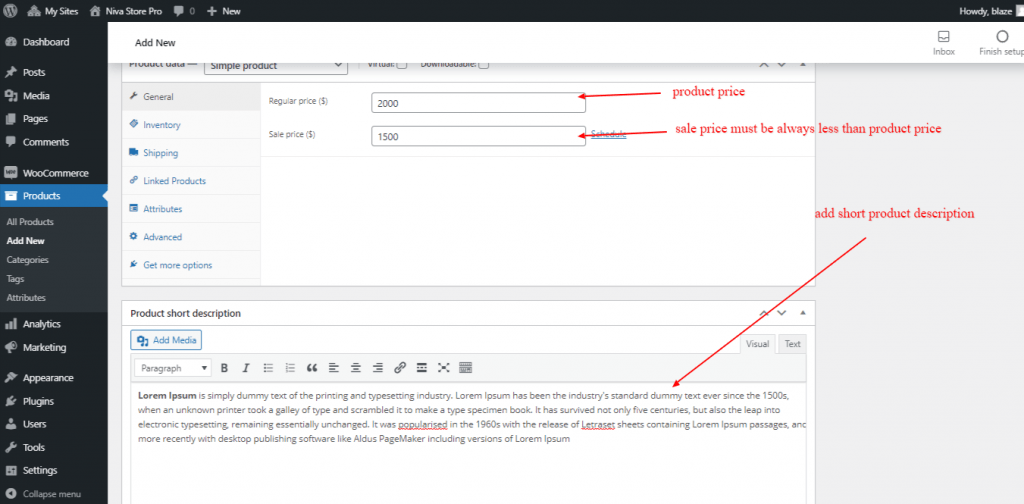 Publish your first product from top right Publish Meta Box
Create Product Categories
Your product need to be assigned to specific categories so customers will find easy to find their need according to category
Go to Products > Categories
Add category details in available fields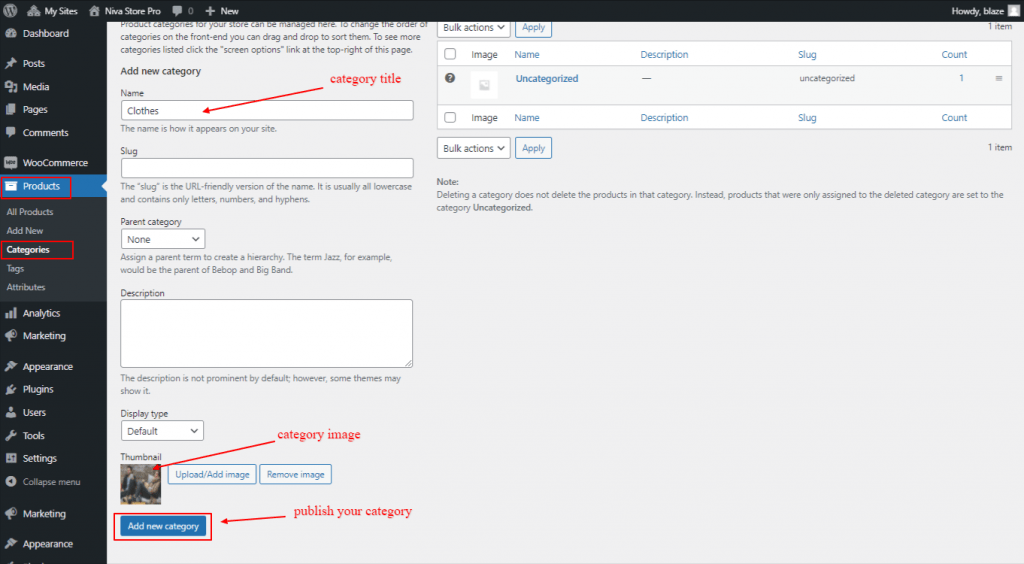 Create WooCommerce Pages
By default, WooCommerce Plugin creates Shop, Cart, Checkout, My Account pages. But, since if you skip woocommerce setup these pages are not created. So, follow below steps to create manually
Go to WooCommerce > Status
Scroll down to the Create default WooCommerce pages in Tools tab
Press Create Pages
Now view your pages and you will find these pages ready for you there
Setting up Your Homepage Layout
Here I am using Niva Store Premium Theme so I am going to follow niva store documentation to setup my homepage.
Documentation Link: https://doc.blazethemes.com/niva-store-pro/
After setup my homepage it looks like this. You can check this in live in this link
Demo Link: https://demo.blazethemes.com/niva-store-pro
Finishing Up
Starting your local business with e-commerce website gains enormous amount of customers, not only local customers but it reaches to international customers through orderly efforts. There are thousands of online business that make good money from well setup ecommerce website. Growing your business online is one of the best decision to level up from where you are now.
Furthermore, with WooCommerce Theme and Plugin you can add numerous features in your website. Setting up your store information and payment methods are still to be added after your website is ready with proper design. Follow us for future posts, as we will be publishing related blogs frequently.