WordPress is a highly targeted content management system for online attacks and vulnerabilities due to its widespread popularity. However, by utilizing the powerful function of Wordfence, you can effectively secure your WordPress website.
Wordfence provides a wide variety of capabilities to safeguard your site from various security risks. It has you covered with firewall protection, virus scan, login securities, etc. Similarly, you can receive thorough reports on the security status and offers to monitor any suspicious activity.
Therefore, Wordfence is the ideal security plugin to guarantee the integrity of your WordPress website. You will feel secure too.
Table of contents
1. What is Wordfence security?
1-A. Meaning
Wordfence Security is a WordPress plugin to protect your website from hackers, malware, and malicious attacks. This plugin makes your site secure by scanning any issues. The Firewall protection blocks any malicious traffic and alerts you if any security issues are detected. As a result, it protects your website's data and saves users.
1-B. Features
Firewall
A firewall is a security feature that protects your website from different types of cyber attacks. Wordfence gives firewall features the highest priority. Hence, if you were to install and use Wordfence security, your website will have firewall protection.
Security Scan
A security scan analyzes your website and identifies the weaknesses and potential threats. Wordfence provides malware scanning to detect malware and other security scans. Hence, Wordfence help in protecting your sensitive data.
Two-factor authentication
Two-factor authentication (2FA) is a simple and effective way to enhance security. It's an additional layer of security offered by Wordfence where the user must enter the generated code during the authentication process.
Real-time traffic view
It allows the users to monitor real-time traffic. It helps identify the IP address and location of each visitor. Hence, Wordfence gives the administrators and owners of websites valuable insights into their traffic.
Brute-force protection
Brute-force attacks are the mechanism used by hackers to access a system by repeatedly trying different combinations of usernames and passwords. Hence, Wordfence security provides brute-force protection to prevent such attempts.
Wordfence Security provides more features like IP blocking, Advanced blocking, and Security alerts.
1-C. Pricing
Wordfence Security is a free plugin and also comes with many premium plans. The difference between free and premium plans is time delays. The free plan takes a longer time to protect your website from new threats whereas the higher plans take a shorter time to protect your website from new threats.
Here are the various plans for Wordfence security. Check out for different features each license plan provides.
2. Steps to Secure Your Website
2-A. Install and Activate "Wordfence Security" plugin
From the WordPress dashboard go to Plugins > Add New. Search for the Wordfence Security plugin and click "Install now." Then, activate the plugin.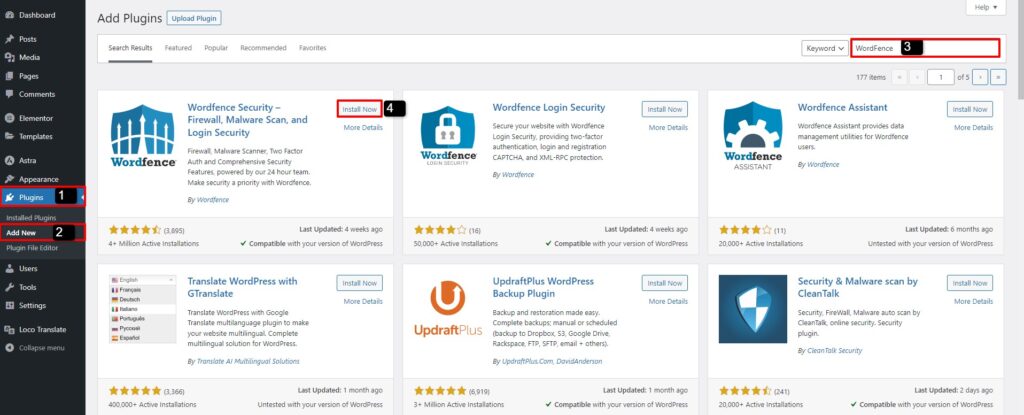 2-B. Get a Wordfence security license
Upon activation of Wordfence, a Popup shows up. Click on "GET YOUR WORDFENCE LICENSE."
It takes you to the page showing various license plans:
Free:
It provides basic tools to protect the site. Also, delays of 30 days on firewall rules and malware signatures.
Premium:
It provides premium features, such as real-time firewall rules, malware signatures, country blocking, etc.
Care:
It will install, configure, optimize, and monitor Wordfence for you.
Response:
It provides 24/7/365 incident response(process of handling and responding to security incidents like data breaches) with a 1-hour response time.
For this blog, we will be using the free license. So, after clicking "Get a Free License," a new window opens on your screen. We'll select "I'm OK waiting 30 days for protection from new threats."
Then, you would need to enter your email address, click Yes/no for security and vulnerability alerts, put a checkmark in the box below, and register.
Now, check your email inbox for the license sent by Wordfence. After the installation of a license, the Wordfence plugin will be activated.
As you can see "Wordfence" section on your WordPress dashboard.
2-C. Using the Firewall section
Navigate to Wordfence > Firewall. The Wordfence firewall is an essential component that safeguards your website against various threats. It is comprised of two crucial elements, namely, Firewall and Blocking.
Make some basic changes to enhance your web security. Firstly, enable the Web Application Firewall and switch from "Learning" to "Enabled and Protecting." Additionally, you can enable rate-limiting to restrict the number of login attempts from a specific IP address. Lastly, blocking traffic from known attackers and malicious IP addresses. These measures will increase your website's security.
2-D. Using the Scan section
Navigate to Wordfence > Scan. This Wordfence scan section is designed to comprehensively review all files on your website for potential threats such as malicious code. Moreover, it also scans for malicious URLs and patterns of infections to provide a security check.
You can simply click on "Start a new scan" and set the scan schedule. So that you can proactively identify and eliminate any security risks that could compromise your website's integrity.
2-E. Using Tools section
Navigate to Wordfence > Tools. This section consists of various essential components such as Live Traffic, WHOIS Lookup, Import/ Export options, and Diagnostics. It provides users with a comprehensive toolkit to enhance their website's security and performance.
The Live Traffic component allows you to monitor your website's traffic in real time which provides valuable insights. The WHOIS Lookup feature allows you to retrieve information about domain name ownership which can be useful to identify potential attackers. Import/Export to clone one's site configuration to another. At last, the Diagnostics feature provides you with a range of tools to troubleshoot and fix issues.
2-F. Using the Login Security section
Navigate to Wordfence > Login Security. The Login Security section comprises two essential components: "Two-Factor Authentication" and "Setting." The login security page provides users with the necessary setting for enabling two-factor authentication(2FA) and reCAPTCHA.
Set up the 2FA by scanning the QR code provided and entering the 6-digit code to authorize the connection between your WordPress site and the application.
2-G. Monitor Wordfence alerts
Keep monitoring for Wordfence alerts in future days too. Take the necessary actions to eliminate all the threats.
3. Conclusion
The Wordfence security plugin is a very impressive tool that can make your website invulnerable to online threats. It comes with a lot of features and a bit complex interface for the beginner. However, the plugin does provide enough documentation describing every feature in simpler terms. Hence, take your time doing the research and implementing them too. You can get hold of it very soon and make your site secure. Therefore, investing time in researching and familiarizing yourself with various applications of Wordfence is highly recommended.
I hope you found this article helpful and that it has brought you one step closer to ensuring your website's security. Do not hesitate to take proactive steps to keep your website safe.